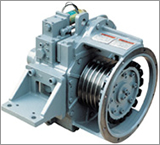 Hydraulic clutch shall be driven by a power takeoff from the front end of the engine.
Since the wet type multi-disc hydraulic clutch excellent for durability and maneuverability is used, the clutch is the most suitable for driving auxiliary machinery for marine use such as a generator and a hydraulic pump.
Standard pulley available in the market shall be usable and the type with the hydraulic pump affixed to shall be manufactured, if required.