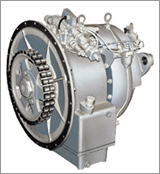 The series of DB and DA type torque converter shall be of 6-element and 3-stage turbine type torque converter and turbine used is of 3-stage. Consequently large torque ratio (approximately 5 times) can be obtained.
In view of being used in the field of railway motorcar which will require high speed operation for long hours, the DB type torque converter is equipped with the hydraulic clutch for driving converter and hydraulic clutch for direct-coupled operation at the input side of torque converter, and for the output side, the one-way clutch is installed. By means of changing over the hydraulic clutch, four (4) types of operation can be done: Neutral, converter operated, engine direct-coupled operated, and converter braked (if required). The free wheel system shall transmit the turbine torque to the output shaft during running of the converter, and shall prevent the turbine from being rotated from output side.
The DA type torque converter shall be of 3-element 1-stage turbine type converter with which the circuit parts of the DB type torque converter is replaced.
Since the DA type shall be of high revolution speed of engine at the time when the converter stalls and difference of suction torque of the pump is small over total area of the converter, the revolution speed of the engine shall not be decreased when the converter stalls. Therefore, the DA type shall be suitable for the engine, of which revolution speed is high rated.