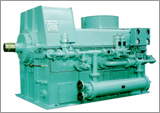 This product is used to drive vertical shaft pumps with engines. This is a compound reduction gear that integrates a fluid coupling and bevel reduction gear into a single unit, greatly reducing the installation footprint compared to freestanding units.
The fluid coupling is built into the input shaft side, so torsional vibration and shocks generated by the engine are absorbed by the coupling and are not transmitted to the load side.
Charging and draining the oil inside the impeller makes it act as a clutch, so it is a simple operation to run the engine for maintenance.
When this product is used to control pump speed, a scoop tube can be added to the fluid coupling to enable simple variable-speed operation by controlling the amount of oil in the working chamber.