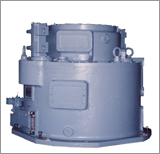 This product is used to drive a vertical pump from a vertical engine. There are two types: The SS-V type for small capacity, which uses roller bearings and spur gears, and the SDP-V type for medium and large capacities, which uses plain bearings. Both types have integral bearings to support pump thrust.
The structure arranges the high-speed and low-speed shafts on the same vertical line, but is otherwise the same as a planetary gear reduction gear.
This product can also be used for driving devices such as agitators and fans.