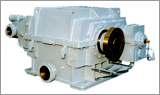 This is a reduction gearbox for steam-turbine generators. The gears are carburized, case-hardened and ground with high reliability, and all the bearings are of sleeve type. The thrust load due to meshing of the gears can be supported by the tapered-land type bearing provided on the side of the sleeve bearings. Accordingly, it has high reliability even during high speed operation.
We are also manufacturing single helical type and that utilizing tilting pad type thrust bearings.
We can also supply automatic engaging/disengaging turning units and shaft driven oil pumps.