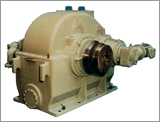 This product is used in the drive of turbo compressors, boiler water supply pumps, turbine generators, and other applications, and is suitable for power transmission between 150kW and 23,000kW. A wide range of gear ratios, between 1.2 and 10, are covered.
Gears are highly reliable case-hardened steel with ground finish. All bearings are sleeve bearings. Thrust loads from gear meshing are supported by tapered land bearings on the sides of the sleeve bearings, achieving high stability, even at high speed. In addition to the standard series, we also manufacture types with double helical gears and types with tilting pads on the thrust bearings.
Available accessories include an automatic engage/release turning system and a shaft-driven oil pump. RTD, thermocouples, and vibration detectors are among the options which can be added.