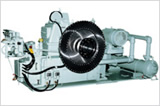 Omega clutch shall be of continuous variable speed control system to vary extensively the out put speed through controlling clutch operating oil pressure.
Omega clutch shall put out optional and stable revolution by slipping of plates of wet type multi-disc clutch placed between input shaft and output one. Omega valve, a kind of centrifugal governor, is fitted at the output side of the clutch and sense always the revolution speed of output shaft to keep it at the specified speed.
As the revolution speed of output shaft can be changed only by alteration of set up hydraulic pressure (controlled pressure) of Omega valve, such a setting can easily be done by means of electric or pneumatic signal from external, and automatic operation is also easy.
Heat caused by slipping of a clutch shall be cooled by sending an oil into clutch plates through lubrication circuit. As such an oil shall form up oily film between the slipping plates, no clutch plate will be worn out.