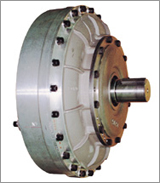 Our fluid couplings are of the fixed-charge type, in which the case is filled with a fixed volume of oil.
In a fluid coupling, a pair of radial vanes face each other, with the impeller directly connected to the engine side and the runner directly connected to the driven side. When the impeller rotates, it acts as a pump, forcing oil outward, so that the power from the engine is temporarily converted into kinetic energy in the oil.
That energy is conveyed to the runner on the driven side, where it is converted again to mechanical energy and transmitted to the driven device.