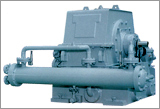 Power is smoothly transmitted in the form of kinetic energy in the oil that circulates within the impeller and runner.
When speed changes, the input shaft is connected directly to the motor and runs at constant speed, and the volume of oil in the working chamber is adjusted through linkage with the scoop tube to change the output speed (load speed).
This scoop tube is easy to operate from outside, and allows wide-ranging, stepless adjustment of the load speed.